History of Mary Queen of Peace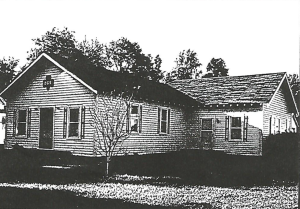 In 1922 a group of Danville women gathered to discuss and study Catholic Literature to prepare their children for their First Communion. At that time, Danville Catholics were traveling to St. Malachy in Brownsburg, Indiana to attend Mass.
The first Mass was celebrated on June 1, 1922, in the living room of Mr. and Mrs. Herschel Wilson. Ironically, their home is now our rectory. Mass was often celebrated in the Wilson home for the next 15 years.
In 1937 Fr. Charles Schottelkotte was assigned by Archbishop Joseph E. Ritter to organize Mary, Queen of Peace as a Mission Parish. He once commented, "Even though the beginnings of Mary, Queen of Peace were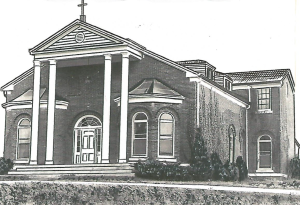 small, those beginning members were enthusiastic, and it didn't take them long to find others to "swell" the congregation." He was the first of 15 pastors at Mary, Queen of Peace.
By 1938 a small permanent chapel that seated 125 was erected at Mulberry and Blake Streets in Danville. Rt. Rev. Michael Lyons dedicated this chapel February 5, 1939. An additional room and bath were added as a rectory in 1946. Currently, the building is being used by the local Girl Scout Troop.
The Archdiocese of Indianapolis purchased the Allen Campbell property, formerly the Wilson home, for $12,500 after the tornado of 1948. It was
restored and dedicated February 13, 1949 by Archbishop Paul Schulte. This building, our second church, seated 110 and housed the office, classrooms and the rectory.
The cornerstone for our third church was laid April 4, 1954, and dedicated August 8, 1954. The building was estimated to cost $53,000 and seated 250. Mary, Queen of Peace had "swelled" to 104 households including 75 children.
Today, Mary, Queen of Peace stands on the corner of Mackey Road and US 36. This church was erected at the cost of $1,200.000 and seats 400. The church was dedicated December 16, 1990; by Archbishop Edward T. O'Meara. Currently, there are 426 households including 220 children.
Our eight-acre campus includes the new church, the 1954 church, which is used as our Religious Education Building and the Wilson home which serves as our Parish offices.