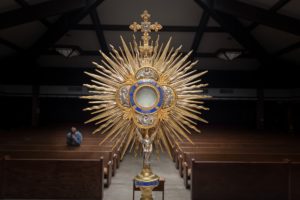 Adoration of the Blessed Eucharist – First Thursday of Each Month 6:00 p.m. – 9:00 p.m.
Benediction prior to Mass – First Friday of Each Month at 8:15 a.m.
We want to personally invite you to spend some time before our Lord Jesus in the Blessed Eucharist. The Eucharistic Presence of Jesus is in all Catholic Churches as the Sacred Host is reserved in the Tabernacle.
Jesus can bless you in a special way through Adoration. You can say a prayer before him or use a devotional or simply remain in the loving silence of our Lord's presence. The fact that you are there is a prayer in and of itself because you show your love and belief of the source and summit of our Catholic faith, that is Jesus the Risen Lord is truly and substantially present Body, Blood, Soul, and Divinity in the Blessed Eucharist. Jesus awaits your visit. You can come before Him any time because He is there in the tabernacle. So please find some time to spend an hour, a half hour, 15 minutes or make a short visit to our church, Mary, Queen of Peace.